How WineWeaver Wine Aerator Works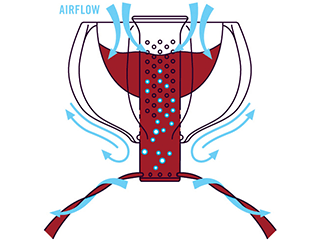 How WineWeaver wine aerator works to deliver perfectly aerated wine
How WineWeaver wine aerator works to ensure your wine is aerated to the optimum is a question many of our competitors would love to know the answer to!
Our wine aerators are feature-rich and have been specially developed to help you enjoy the highest level of naturally aerated wine, whatever you choose to drink.
Our patented Adjustable Delivery System (ADS) offers by the glass aeration providing smooth delivery and ensure wine aeration is suited to the shape and size of your wineglass or decanter.
As you slowly pour your wine through the WineWeaver®, the unique dual aeration system will maximise air exposure to release hidden flavours and aromas in your wine to unlock its full potential.
Aeration is not an empty promise; you will notice the improvements the WineWeaver® brings to a wines flavours and aromas instantly. Any wine, red or white, will have a heightened taste, stronger smell, and smoother finish once the WineWeaver® has been allowed to work its magic. Its unique aeration system has been designed to achieve the ultimate in natural wine enhancement.
We are often asked how WineWeaver wine aerator works?
Well, here is the definitive answer!..
The WineWeaver wine aerator works on a 'bottle to glass principle' in the following way:
Our wine aerator has a patented adjustable delivery spout that seamlessly adjusts to  fit various sized glasses (or decanters)

Honeycomb lattice spout starts the aeration process

Fins increase airflow between the glass and the wine aerator

Unique fin design ensures hands free stability whilst the wine aerator sits in the glass

The honeycomb spout filters cork and sediment

Radial exit holes gently delivers the wine on the inner wall of the wine glass for a softer, natural aeration, emulating the process of the decanter
View our WineWeaver® video below:
RECENT PRODUCTS
We regularly add new products, check out our most recent ones.